As 2019 splutters to a close, it's time for our annual lookback at our most-read tech stories, and to ask: "What happened next?".
Facebook and its family of apps dominates this year's list with four entries – it probably won't be a surprise that none of them were particularly brand-enhancing.
The Chinese viral video app TikTok makes the cut for the first time. And many of the other "big tech" names are there too in one form or another.
But there are a few notable exceptions. Neither Elon Musk nor Tesla made it, despite the window-smashing launch of the Cybertruck and plans to hack our brains. Google's co-founders were originally on the list after deciding to give up day-to-day control of their empire, but were squeezed out just before publication.
Video gaming also missed out, even though Prince Harry attracted lots of attention for suggesting Fortnite should be banned.
And both Huawei and Samsung are absent, even though the former's loss of Google's apps and the latter's folding phone fiasco were two of the year's standout developments.
In any case, here's what attracted most eyeballs in each month of the year:
January: When three becomes one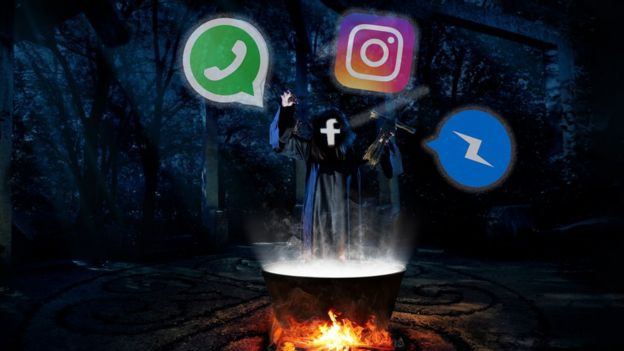 A leak forced Facebook to reveal plans to merge the behind-the-scenes tech of messaging on WhatsApp, Messenger and Instagram. The effort was reported to be a pet project of chief executive Mark Zuckerberg.
He later justified the move saying it would draw the three products closer together, making it easier for users to send posts between them. Furthermore, he said it would also help the firm expand its end-to-end encryption features, which help keep the messages secure.
Many observers noted, however, the action would also make it more difficult to split the company apart. And as the year went on that became a growing threat, with first Senator Elizabeth Warren and then other Democratic presidential candidates suggesting Facebook has too much power and influence.
But it may not take a change of administration for Mr Zuckerberg's ambitions to be thwarted. The Wall Street Journal recently reported that the Federal Trade Commission may intervene to prevent the apps being integrated.