Screenwriter Billy Ray, who initially told me he would "reserve comment" attacking the AJC for "a distraction campaign" by focusing on one minute of a two-hour-plus movie. "The movie isn't about Kathy Scruggs; it's about the heroism and hounding of Richard Jewell, and what rushed reporting can do to an innocent man," he told Hollywood news site Deadline. "And by the way, I will stand by every word and assertion in the script." He also takes credit for "the redeeming of Kathy Scruggs" as in the film, she realises her mistake despite never "publicly atoning" in real life.
In the same piece, Deadline confirms what we already knew, and what those who knew her have said and what the two men who wrote the exhaustive book about Richard Jewell have stated: there's no evidence she traded sex for information. Deadline's editorial director Anthony D'Alessandro tracked down a deposition referred to in The Suspect where Scruggs revealed that she had a relationship with a member of the Atlanta police department, not the FBI, and it had ended two years before the Olympics. Jewell's lawyer has since referred to it as "a damning and unprovable claim".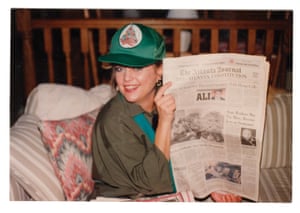 Jewell tried to sue the AJC along with a host of more powerful news sources for libel. While the others settled out of court, the AJC stood firm and ultimately a court ruled in their favour as their sourcing and reporting was deemed "substantially true at the time they were published". Alexander and Salwen, an attorney and journalist respectively, agreed, calling Scruggs's work "very well-checked". Scruggs didn't need to publicly atone for her reporting, a judge decided this, and it's not up to a screenwriter to decide that she should.
Soon after came a new statement from Wilde parsed out inWhile more considered and less defensive than her initial response, her explanation remains uneasy. She calls the character of Scruggs "bold, smart, and fearlessly undeterred" while noting the sexism she must have faced at the time. Fine.
But then: "Contrary to a swathe of recent headlines, I do not believe that Kathy 'traded sex for tips'. Nothing in my research suggested she did so, and it was never my intention to suggest she had. That would be an appalling and misogynistic dismissal of the difficult work she did."
She claims that the "fictional dramatisation" of events implied that Scruggs was in a "pre-existing romantic relationship" with the FBI agent who leaked "false information" and it wasn't a "transactional exchange for information". She adds that her opinions are based on her "own independent research".
The scene in question does not contain any of the nuance and depth Wilde seems to think it does. Whether or not that's how she's now claiming to see it, the interaction plays as a strict sex-for-tips arrangement – Hamm's character even asks, "What makes you think you can fuck it out of me?" while the original script had him remarking on her "tits-ablaze blouse".
Even without this scene, the character of Scruggs is portrayed as an unprofessional one-note floozy who expresses ruthless, inhumane ambition after the bombing, and is one of the clear villains of the piece. It's one of the most regressive portrayals of a female character I can remember in a film of this scale. Wilde has built a career hinged on the importance of feminism, wearing a "Feminist AF" T-shirt, claiming to raise her son as " and spending the year promoting her directorial debut, the female-fronted, sex-positive teen comedy Booksmart. Just this week she welcomed "the era of sisterhood" in
Both her and Ray have dug deeper holes at a time when they should have been trying to dig their way out. Eastwood's politics have long been murky and with age, they've become more prominent in his work, from the jingoistic Islamophobia of American Sniper to the lazy racism of The Mule, and signing on to one of his films is an acceptance of this fact. The responses from him, Ray and Warners are based on their fury over the unfair treatment of Jewell whose story is brought to the screen for maximum sympathy. But using this as a cover to denigrate a dead woman as well as push a damaging myth about female journalists, one that's is irresponsible. Let's hope one day someone makes a movie called Kathy Scruggs and has the same determination to get her story straight.