Many cases blamed on a single individual who appears to have caught virus for second time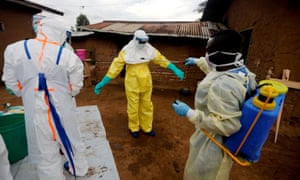 Health officials are investigating an alarming spike in cases in the Democratic Republic of the Congo, with many blamed on a single individual who appears to have contracted the disease for a second time this year.
Amid the struggle to bring the under control, the World Health Organization noted an almost 300% increase in cases in the last three weeks, with 17 of 27 linked to a single chain of transmission.
According to officials, it appears to be the second time the person has been documented as suffering from in six months. An investigation is being held to understand the circumstances around the case.
Ten cases were notified on Wednesday in Mabalako, North Kivu province, where the individual is believed to be from, after another six on Tuesday, according to officials who noted that three out of the six were practitioners of traditional medicine.
The spike – and the worrying circumstances behind it – appears to buck a trend towards a declining number of cases, although security issues in the key zones of Beni, Biakato and Mangina had recently paralysed the response after violent attacks on health workers.
Among the possibilities being examined are reinfection with the disease – which would ring the most serious alarm bells as no case of reinfection has ever been recorded before – or a relapse.