Iran has carried out a ballistic missile attack on air bases housing US forces in Iraq, in retaliation for the US killing of General Qasem Soleimani.
More than a dozen missiles launched from Iran struck two air bases in Irbil and Al Asad, west of Baghdad.
It is unclear if there have been any casualties.
The initial response from Washington has been muted. President Trump tweeted that all was well and said casualties and damage were being assessed.
LIVE: Latest reaction and analysis
ANALYSIS: Is there more to come from Iran?
EXPLAINED: A quick guide to the story so far
Two Iraqi bases housing US and coalition troops were targeted, one at Al Asad and one in Irbil, at about 02:00 local time on Wednesday (22:30 GMT on Tuesday). It came just hours after the burial of Soleimani, who controlled Iran's proxy forces across the Middle East.
Iran's Supreme Leader Ayatollah Khamenei said the attack was "a slap in the face" for the US and called for an end to the US presence in the Middle East.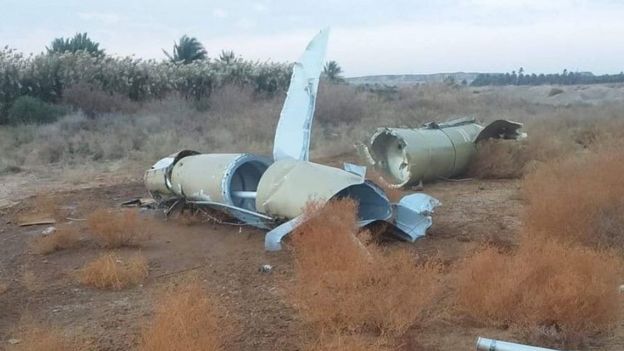 Echoing him, President Hassan Rouhani said Iran's "final answer" to Soleimani's assassination would be to "kick all US forces out of the region".
Iraq's Prime Minister Adel Abdul Mahdi said Iran warned him that an attack was imminent and only areas with US troops would be targeted. There were no reports of Iraqi casualties, he said.
Just hours after the missile strikes a Ukrainian airliner crashed in Iran shortly after take-off. There is no evidence that the two incidents are linked.
Several airlines have announced they are avoiding both Iranian and Iraqi airspace amid the rising tension.
Is this the end of the escalation?
This is the most direct assault by Iran on the US since the seizing of the US embassy in Tehran in 1979.
Iran's Revolutionary Guards said the attack was in retaliation for the death of Soleimani on Friday – killed in a missile strike outside Baghdad airport on the orders of President Trump – and warned US allies that their bases could also be targeted.
Iran's Defence Minister Amir Hatami said Iran's response to any US retaliation would be proportional to the US action.
But Iranian Foreign Minister Mohammad Javad Zarif said the attack was self-defence and denied seeking to escalate the situation into war.
The BBC's Middle East editor Jeremy Bowen in Baghdad says the tweets appear to suggest that Iran wishes to draw a line under its retaliation for the assassination of Soleimani and is putting the onus on the US as to whether the situation escalates.
---

Given the significance of General Soleimani and the passions that his killing aroused, Iran's military strike against US bases in Iraq was a modest response.
The attack was clearly timed to cause as few casualties as possible. Both the US and Iran – for all their rhetoric – do not want a wider conflict. So maybe a line can be drawn under this matter for now.
Is this the end of Iran's retaliation? Time will tell.
But it is hard to see Iranian policy changing. It is presumably still going to try to secure its regional goals, not least the departure of US forces from Iraq.
The Soleimani killing has weakened the US position there. But it was rocket attacks from Iran's proxies – local Shia militia – against US bases that formed the prelude to this recent crisis.
Has the US established any measure of deterrence? And if not, will Iranian-inspired attacks resume in due course?
---
What is the status of US troops in Iraq?
The US has around 5,000 troops in Iraq tasked with preventing a resurgence of the Islamic State group (IS) there.
President Trump said on Tuesday a US withdrawal of troops from Iraq would be the worst thing for the country.
Which bases were targeted?
Foreign secretary condemns Iran missile strikes
His comments came in the wake of a letter, which the US military said had been sent in error, to Iraq's prime minister, which suggested that the US would be "repositioning" forces in the country.
What other reaction has there been?
Israeli Prime Minister Benjamin Netanyahu warned that Israel would strike back hard against any attack and said President Trump should be congratulated for acting "swiftly, boldly and resolutely" in assassinating Soleimani.
While Iraq's Prime Minister Adel Abdul Mahdi urged restraint on all sides and warned that the crisis threatened a "devastating all-out war in Iraq, the region and the world".
UK Prime Minister Boris Johnson warned Iran not to repeat the "reckless and dangerous" attacks. The UK's defence ministry said it was "urgently working to establish the facts on the ground" but said there had been no British casualties.
France, the United Arab Emirates and the Nato defence alliance also called for de-escalation.
Get real time update about this post categories directly on your device, subscribe now.