A bride from the Nubian ethnic group has her make-up done in August before her wedding in Kenya's capital, Nairobi. Originally from Sudan, Nubians were brought to Kenya more than 100 years ago by the British to serve in its armed forces.
Now a community of about 100,000, they have long complained of marginalisation in Kenya and citizenship is still "not assured", activists say.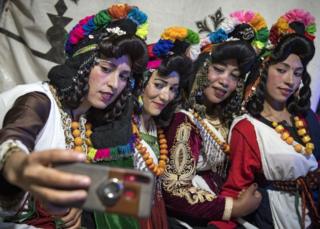 At a wedding festival in central Morocco in September, Amazigh women pose for selfies. The Amazigh are the indigenous people of North Africa, and are pushing for greater recognition of their language and culture.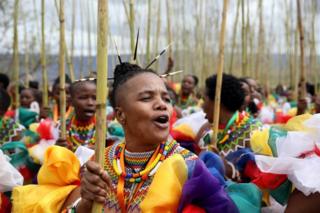 The same month, Zulu traditionalists held their annual Reed Dance ceremony at King Goodwill Zwelithini's Enyokeni Palace to promote old-fashioned family values to combat HIV/Aids and teenage pregnancies.
The festival revolves around women carrying reeds which they then leave in front of the monarch. Zulu mythology has it that if a woman is not a virgin, the reed will break, embarrassing her in public.